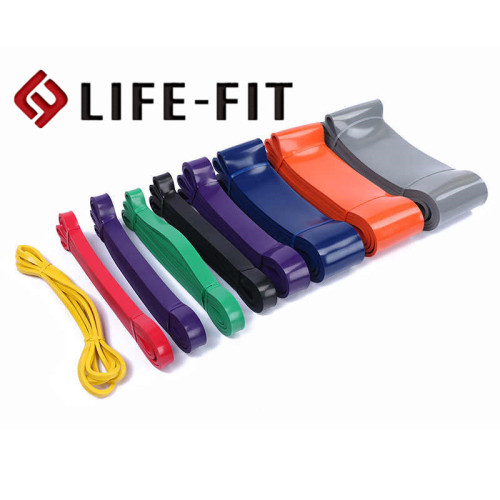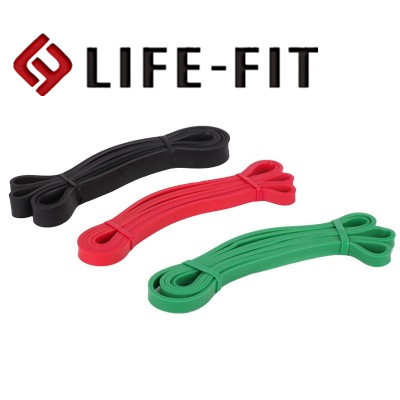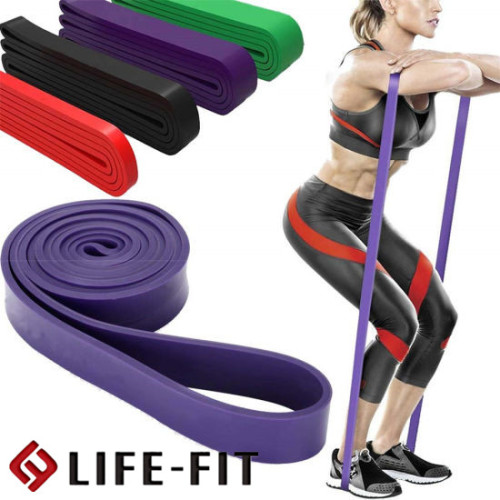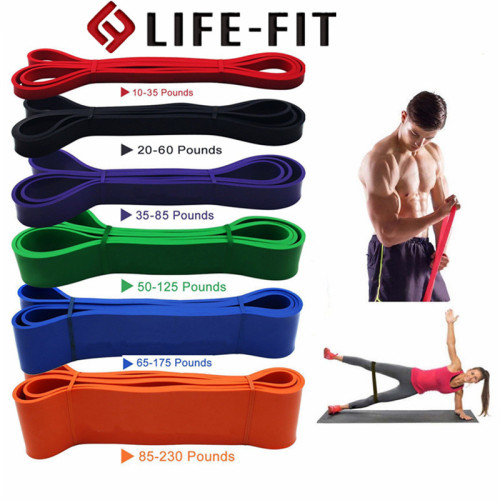 2080mm PULL UP ASSIST BANDS LOOP
Item specifics
color

yellow,red,black,purple,green,blue,orange,gray
Perimeter*Thickness

2080mm*4.5mm
Use

Pull up assist
MOQ

50pcs
Description
2080mm PULL UP ASSIST BANDS LOOP .Pull-up assist bands are large rubber bands that relieve a certain amount of weight when performing a pull-up. For example, if an athlete who weighs 150lbs uses a pull-up assist band of 25lbs, then they are pulling up 125lbs instead of their full body weight. This seems pretty straightforward and primarily for those who are training toward performing unassisted pull-ups, but there are many reasons why athletes of all experience and fitness levels might be able to benefit significantly by having access pull-up assist bands.
Pull-ups are one of the best upper body building exercises out there and they don't necessarily always need to be full body weight pull-ups to achieve the benefits they offer. Here are some reasons why having pull-up assist bands in your equipment arsenal is beneficial:
· Training routines that call for higher volume work with lighter weight pull-ups.
· Pull-up assist bands will help athletes continue to perform pull-ups without having to concede proper form when fatigue sets in.
· Performing pull-up dropsets (every set gets progressively lighter) is possible with assist bands.
· Assist bands are excellent when supersetting pull-ups with other exercises.
| | | | | | |
| --- | --- | --- | --- | --- | --- |
| Specification-inch | Circular Length*Thickness*Width | color | resistance level | unit weight | packing details |
| 41'0.177'*1/4' | 2080mm*4.5mm*6.4mm | Yellow | 5Lbs-10Lbs | 60g | 200pcs(40*28*28cm) |
| 41'0.177'*1/2' | 2080mm*4.5mm*12.7mm | Red | 15Lbs -25Lbs | 120g | 100pcs(40*28*28cm) |
| 41'0.177'*13/16' | 2080mm*4.5mm*21mm | Black | 50Lbs -70Lbs | 190g | 80pcs(40*28*28cm) |
| 41'0.177'*1.25' | 2080mm*4.5mm*32mm | Purple | 100Lbs -120Lbs | 260g | 50pcs(40*28*28cm) |
| 41'0.177'*1.75' | 2080mm*4.5mm*45mm | Green | 120Lbs -175 Lbs | 410g | 35pcs(40*28*28cm) |
| 41'0.177'*2.5' | 2080mm*4.5mm*64mm | Blue | 175Lbs-230Lbs | 520g | 25pcs(40*28*28cm) |
| 41'0.177'*3.25' | 2080mm*4.5mm*83mm | Orange | 230Lbs -250Lbs | 750g | 20pcs(40*28*28cm) |
| 41'0.177'*4' | 2080mm*4.5mm*101mm | Grey | 250Lbs-270Lbs | 880g | 15pcs(40*28*28cm) |